Hey, I'm Michael and welcome to my portfolio!
I'm in the business of game development, primarily programming. I enjoy both playing and making games from loads of genres, from racing games to strategy games. If you do so wish you can contact me or check out more of my stuff at one of the places below:
Twitter: @FlaxenFlash
E-mail: michaelokane@outlook.com
GitHub: https://github.com/FlaxenFlash
---
Onikira (Formerly Honourbound)
I spent a year working at a small independent game developer, BatCat Games (aka Digital Furnace) for the placement year of my degree. I worked on their second title Onikira which is currently available on steam early access and approaching final release. Development was primarily in C# using the open source 2D game engine Duality.
http://store.steampowered.com/app/310850/
---
Instant Radiosity Demo
Aspects of Game Engine Development Project – C++/DirectX – Implemented a lighting engine to produce a global illumination effect. The engine used an implementation of the Instant Radiosity technique where point lights are placed on surfaces to simulate the effect of bounced light. The system included an implementation of shadow mapping to allow for shadows to be generated by both direct and indirect light.
https://github.com/FlaxenFlash/IndirectLighting
---
OpenGL Particle System
Advanced Visualisation Project – C++/OpenGL – Created a particle system designed to simulate a fireworks display. Designed the system to recycle dead particles and to improve speed by batching all particles that use the same texture.
---
GameCraft
Belfast GameCraft 2013: Won most original game and the people's choice award for our game Gravity Bloom in which players move a ship through space by expanding the gravitational fields of star systems.
Derry GameCraft 2013: Created an isometric sci-fi game for Wii-u making use of the touchscreen controller as a menu in 24 hours.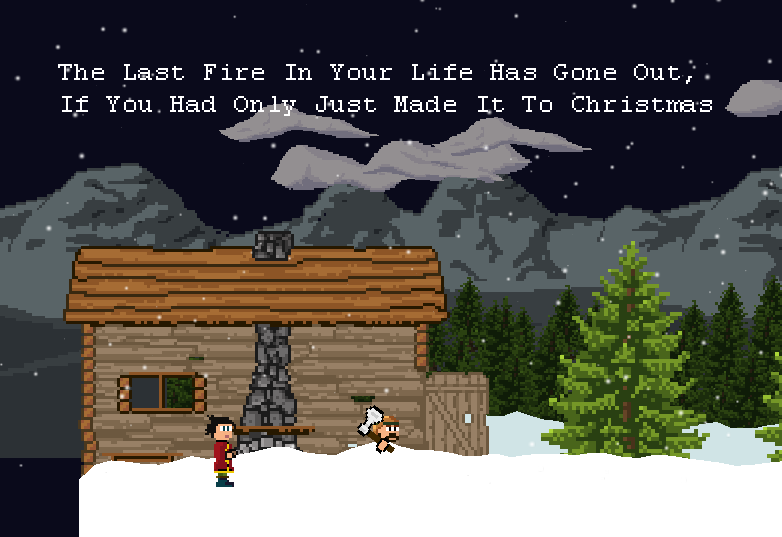 Dublin GameCraft 4: Won best execution of theme for our game about surviving winter by chopping down trees while a thick layer of snow builds up around you.
http://gamecrafty.herokuapp.com/dublin-december-2013/dublin-december-2013-snozcat/
http://github.com/BraveSirAndrew/DublinGamecraft4
Dublin GameCraft 5:
 Won the people's choice award for Space Candy Space Race A Go Go, a game where 4 players attempt to guide two ships around a track using one analog stick each, however the person you share a controller with is on the opposing team. Lots of elbowing in the ribs ensued.
https://github.com/BraveSirAndrew/DublinGameCraft6
Belfast GameCraft 2014: Created a game in which the player must find and assassinate a target in a busy train station using a picture on a post card sent from the future that fades out as you get closer to the target, Back to the Future style
https://github.com/erice4/BttFP
---
Game of Life
Software Engineering Project – Java – Created a software version of the Game of Life board game. Main contributions included a system for specifying tiles using text files, animation and rendering code, game logic and architecture design.
---
Ludum Dare
C#/XNA I created a small game for Ludum Dare 23. The game was an opportunity to test out a potential control scheme for a top down hack and slash game and can be viewed here:  http://ludumdare.com/compo/ludum-dare-23/comment-page-3/?action=preview&uid=11372.
---
Imagine Cup
C#/XNA/KinectSDK– I worked in a team to create an educational application which reached the final of the 2012 Microsoft Imagine Cup. Utilised Kinect to allow users to interact with a global map and complete challenges. I designed and implemented several aspects of the control scheme, a radial menu system, underlying tools for working with map coordinates and map information overlays.
---
GamesFleadh 2012
C#/XNA – Created Chopper Command – Tactical War, a game based on the 1982 game Chopper Command. Combined original side scrolling shooter design with turret defence mechanics with the goal of defending a convoy of trucks. Competed against 12 other teams, with our game taking overall first prize. Main contributions included systems for procedural terrain generation, turret and truck AI, minimap rendering and dynamic sound effects.
---
Windows Phone Apps
Windows Phone Apps – C#/XAML/XNA – I created apps for Windows Phone devices in my spare time using C# and XAML. Available on the Windows Phone Marketplace for download under the following names: Angle Visualizer, Angle-o-tron, Five Day Planner, Simplifier and Solver.
http://www.windowsphone.com/en-gb/search?q=michael+O%27Kane
---
Chronicles of Time
Multimedia Project – Lingo/Adobe Director – Designed and created a game with another student that combined platforming and environmental puzzles solvable using a gravity gun. Implemented basic physics and collision detection for axis aligned bounding boxes and an interesting 2D lighting effect that drained colours from objects as they moved away from lights.
---